Shenzhen, CHINA (June 2020) – Key industry experts, entrepreneurs, government and company officials attended the press conference held by the Organizing Committee of the Drone World Congress 2020. At the conference, the Organizing Committee announced that the Drone World Congress 2020 and the 5th Shenzhen International UAV Expo will take place from September 13th to 15th at Shenzhen Convention and Exhibition Centre. Congress will expect a large group of domestic guests and speakers as usual. Besides, it is enthusiastically looking forward to welcoming its international participants. The Committee is taking COVID-19 seriously and will take extra measures to ensure the safety of all participants who are traveling into China in September.
Press conference at Shenzhenair International Hotel, hosted by Michael Yang (Secretary-General of the DWC's organizing committee and CEO of CPS Media). June 15, 2020.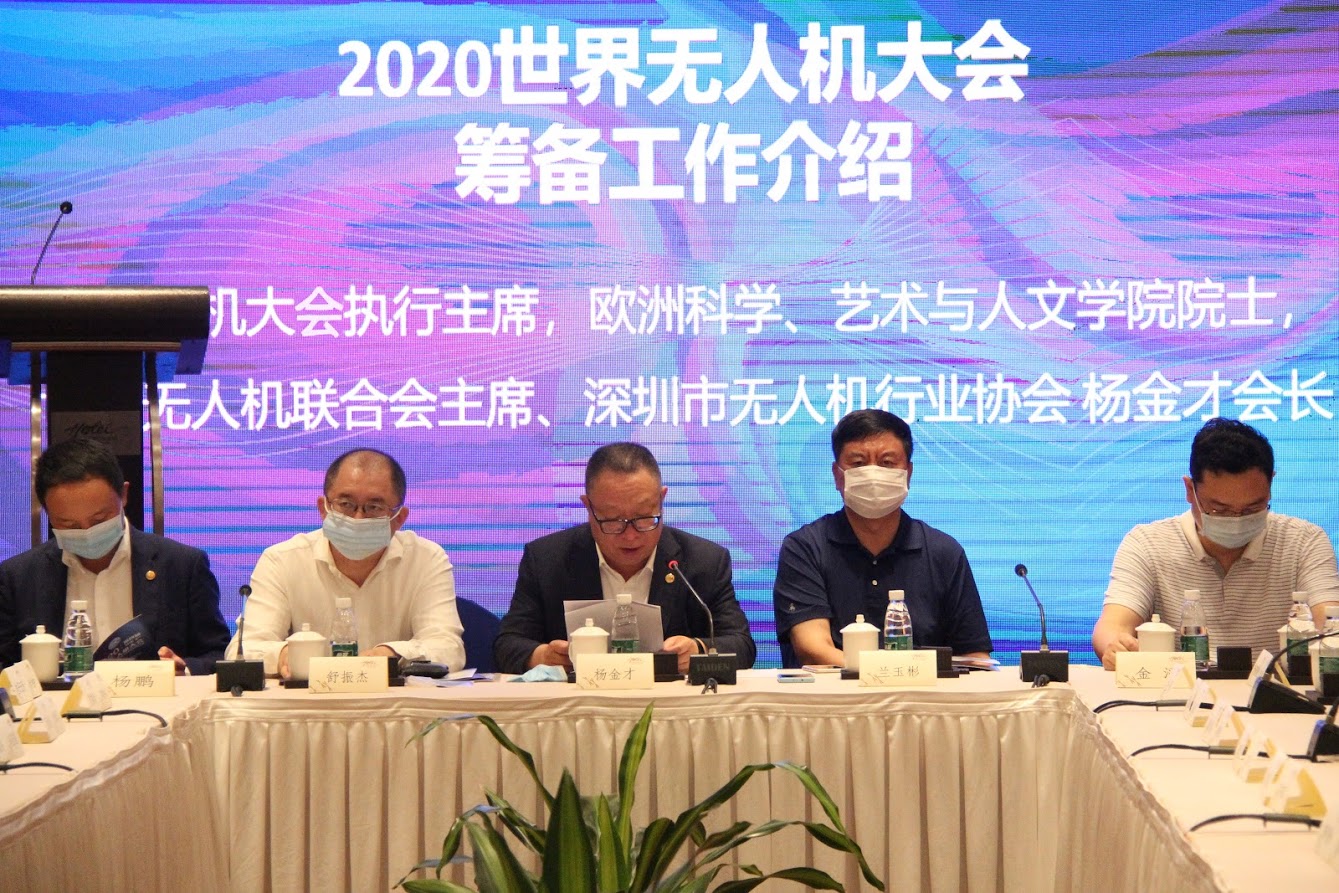 From left to right: Michael Yang, Shu Zhenjie, Yang Jincai, Lan Yubin, Jin Tao.
President Yang Jincai pointed out that since the outbreak of COVID-19 in December 2019, UAVs have stood out as effective solutions among the arsenal of tools to combat the virus, fulfilling roles from cameraman to disinfector to transporter. They reduced risk for human beings while allowing for timely, effective countermeasures to be put in place against the virus. Therefore, this year's DWC will be themed "Pandemic Prevention, Innovative Application, and Safety Supervision," and demonstrate the innovative features of UAVs/UAS and AI technology used in contamination prevention and in emergency rescue.
In addition to special forums on pandemic prevention and control, this year's featured topics include precision agriculture, police security, 5G, artificial intelligence, logistics and transportation, marine UAS, and more. The DWC will expect to receive more than 1,000 industry experts, scholars, and entrepreneurs from more than 30 countries and regions. On top of that, over 400 companies domestically and abroad will bring more than 2,000 drones and new technology for display, some of which will be showcased in specially-themed forums or drone racings. With this myriad of events to bring the community together, the DWC intends to effectively highlight the importance of internationalization, specialization, and marketization. In the meantime, the awarding ceremony for "2020's Top 50 Global UAV Enterprises" and the "Drone Industry Contribution Award" will be held.