The Helsinki Drone Congress and Seminars at Helsinki Messukeskus Convention & Exhibition Center, from 1st to 3rd of October
The Helsinki Drone Congress brings together internationally recognized executives, leading experts, drone professionals, and manufacturers from all around the world to exchange and share their experiences. Furthermore, the Congress will serve as a platform to conduct extensive discussions relevant to the UAV Industry, cooperation enhancement, and partnerships building.
See detail at https://www.cyberwatchfinland.fi/news/drone19/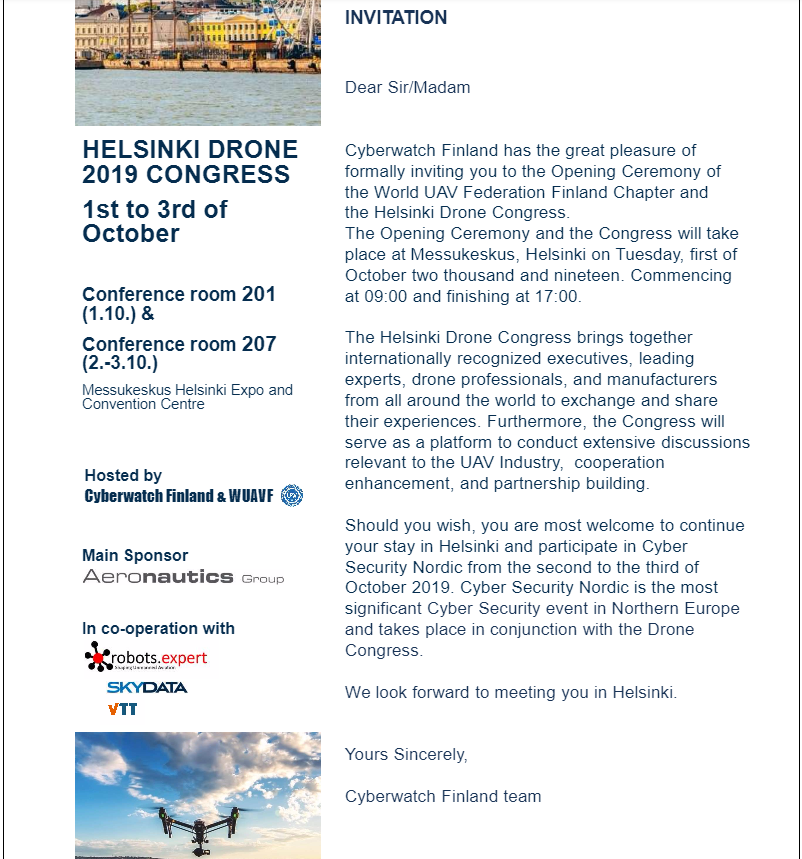 Helsinki Drone Congress & Seminar – Speakers
Mr. Yang Jincai has over 30 years of experience in safety-security area. He is a visiting professor of Beihang University, a special expert of the Police Standardization Administration of the Ministry of Public Security and a distinguished expert of the Shenzhen government. Mr. Yang founded CPSE Security Expo in 1989 and China Public Security magazine in 1993 where he served as president and editor-in-chief. He established Shenzhen Security and Protection Industry Association in 1995, and was elected at the inaugural meeting of the International Aviation Security Association held in the Philippines in 2010 as its first chairman (2010-2013). Mr. Yang founded China UAV Industry Alliance (with 120 members from 16 provinces and cities nationwide) in 2014 and the first UAV industry organization in China in 2015-Shenzhen UAV Industry Association, whose members cover the entire UAV industry chain. He successively held professional UAV exhibitions, summit forums, study tours, seminars and other industry events, as well as the release of the eight UAV industry standards. Mr. Yang founded World UAV Federation in year 2016 with currently 24 countries chapter.
Martti has over 40 years' experience as developer and leader of C4ISR Systems in Finnish Defence Forces. Now he is a Cyber security and Cyber defence researcher and teacher and the pedagogical director of the Cyber Security MSc. program. He is also Adjunct professor in National Defence University in Air and Cyber Warfare. He is leader of the CyberSecFIN cybersecurity ecosystem of the Allied ICT Finland (AIF). He has over 130 publications, research reports and articles on the areas of C4ISR systems, cyber security and defence, information warfare, air power and defence policy. Since 2001 he has been the Editor-in-Chief of the Military Magazine
Mr. Nir Weisser is Aeronautics BD and marketing director for Finland. Holds a BSc of engineering and MBA. Mr. Weisser has a vast experience, more than 20 years in both maned and unman platforms as internal pilot, system engineering and BD/sales director. Aeronautics is a leading world comply to develop and produces (one stop shop) verity of drones VTOL solutions (multI rotor – VTOL capabilities) as well as fix wings starting from tactical applications (10KG) up to MALE (2000 kg) for all markets: Civil, HLS and Defense.
During his 7-year tenure, Tomi has been working with approval, certification and oversight of airlines continuing airworthiness. In his current role, he focuses on the implementation of cybersecurity to the civil aviation system, internationally and nationally. Tomi contributes actively to the international co-operation e.g. in ICAO, EASA, ECAC and ENISA cybersecurity activities, developing future regulation, – best practices and holistic risk management methods to aviation. At national level, a close co-operation with stakeholders provide support to manage cybersecurity appropriately in the continuously evolving cyberspace. He also works on a doctoral thesis, which researches methods for holistic cybersecurity risk management in aviation. Before Trafi, Tomi worked several years in different airworthiness positions in airlines.
Pertti's + 30 years of work history is proof of his solid background of professional expertise in government affairs, resource management, administrative management, planning of organizational development in military medicine, education and hospital relations, as well as CBRN protection and training of security, cyber skills within education industry, the healthcare and medical industry. He has an extensive experience at the executive group level and board level in multiple companies both in Finland and transnationally. He is also an Associate Fellow at Geneva Center for Security Policy, GCSP and owner of Jalasvirta Group and founding partner of Cyberwatch Finland Oy. Today, he focuses on providing his extensive professional experience in consulting services for the Military, Cyber Security Strategy, Cyber Education, Cyber in Healthcare and Government business segments.
Ms. Elina Immonen works as Director of Safety and Security Unit of the Finnish Ministry of Transport and Communications. The Safety and Security Unit in entrusted with matters relating to privacy protection and the security and confidentiality of transport and communications services. Ms. Immonen holds a Master's Degree in Social Sciences as well as a Master's Degree in Laws. Since 2006, she has held various specialist and executive positions in several Finnish ministries. During her career as a public servant, she has led and taken part in many legislative and other reformative projects.
Mikko Järvilehto, Founder and Director of the Ultrahack (Futuretournaments Oy). He is a specialist in challenge contests and hackathons, innovation management and commercialization. Järvilehto has organized close to 100 innovation challenges with various industries to drive both digitalization and exchange of talent in global scale. He is the inventor of the Drone Tournament, which is an drone innovation challenge competition that introduces new services & ways to use various technologies for e.g. in farming, forestry, rescue services, logistics, traffic and maintenance. Järvilehto is also an author for over 40 scientific publications and co-founder of three startups.
Hannu is currently the Coordinator of an innovation ecosystem called Research Alliance for Autonomous Systems (RAAS,www.autonomous.fi). RAAS includes 200 researchers from 27 research organizations and one of RAAS' key application domains is drones. Hannu has a Master's Degree in Economics and he is currently finishing his PhD in Cognitive Science. He has 16 years of work background in usability research and user interface design both from the academia and industry. His previous research work has focused on human factors in complex systems, user experience design in safety-critical environments and the development of autonomous systems.
Dr. Hee-choon Kwon is a professor of Digital Media Department at the Suwon Woman's College , Suwon. He received his Ph.D. from SKKU and eventually earned his Professor job. After his fifteen-year career as a teaching there, Dr. kwon decided it was time for a change of a Job for Digital Convergence Agency, where he was offered as Vice President. In addition to teaching and Research, Dr. Kwon is a regular contributor to National Police University and Book Writing of Police Drone. He recently collaborated on making manuscript and publishing with friends and colleagues, Now he is serving as a Secretary General at NACSI.
REX is a European consultancy focused on drones, on Urban Air Mobility and on digitalizing aviation. Jonas has a long background as a senior change management and strategy professional bridging the gap between people and technology. Jonas is the Chairman of RPAS Finland ry, the industry association for professional UAV stakeholders in Finland as well as the CEO of BVdrone Oy, a drone operator focused on demanding remote sensing and environmental monitoring drone operations. Jonas is one of the core drivers behind GOF U-space, an EU-supported Estonian-Finnish Very Large drone Demonstration project on the next step in integrated aviation. Jonas is also involved in 5G!Drones a H2020 project focused on developing metrics and guidelines for the use of 5G networks in drone use cases. Robots Expert is the EIP-SCC Urban Air Mobility ambassador in Finland, and the company has authored a comprehensive Droneguide for Cities (in Finnish).
An experienced cyber security and secure connectivity professional with military background. Arimo is working in several drone and autonomous robotic connectivity projects globally. Future swarming in robotics requires new technologies to enable real autonomy and shared computing technologies. Data Rain is a solid technology for real time shared knowledge requirement in swarming robotics and artificial intelligence solutions.

Dr. Perttula has over 10 years' experience in aeronautical engineering in the Finnish Air Force, ICAO and academia. His main research areas include quality management, testing, fast product development, Systems Engineering, flight mechanics, measuring technology and avionics. He has started and participated in many drone related projects like City Logistics, Drone Specialist and designing & prototyping VTOL drones. He is also giving lectures in Aeronautical subjects including drones. In addition, Perttula has headed NASA's Epic Challenge Mars project where students are solving very difficult problems related with setting up permanent habitant on Mars. He has also gained long international experience while living and working in Asia, Africa and Europe.
Heidi works as project manager at Forum Virium Helsinki co-creating urban futures with the city, the science community, residents and companies. She holds a M.Sc. degree in Economics for University of Sorbonne, Paris. Sustainability is her passion; she lives as she talks and is a driven promoter of carbon neutrality and circular economy, at home, in her neighbourhood and professional life. She is a change maker and organisation developer with experience in leadership from the creative industry focusing on sustainable & lean development.
Markus Ranne is the Program Manager of the New Space Economy program at Business Finland. Previously he has worked in various project functions at Business Finland, Finpro, European Space Agency and IVO Power Engineering. He has a Master's degree in electrical engineering from Helsinki University of Technology and a MBA from Aalto University. The New Space Economy program aims to benefit from the growth potential of international space business. The program offers funding, networks and internationalization services for developing global space business, and funds industry disrupting startups, growth-seeking manufacturing companies and businesses focused on data utilization. Drones are relevant to the New Space Economy program especially in the situational awareness domain. Business Finland is the Finnish innovation funding, trade, investment, and travel promotion organization, headquartered in Helsinki. New Space Economy program: www.businessfinland.fi/en/space
Stephen has been an active participant in the Finnish UAV community for over 2 years. A popular drone photographer, one of the founders of The Fly-By Guys, and now Operations Manager at Fleetonoy.ai, Stephen is helping the industry find its voice for good and safety in Finland, and beyond.
Dr. Eija Honkavaara works as a Research manager at the Finnish Geospatial Research Institute in the National Land Survey (FGI). She has over 10 years experience in drone based remote sensing. She leads the FGI's DroneFinland research team that has developed several pioneering drone-based remote sensing solutions. In forestry applications her research focuses the forest inventory and forest health analysis using photogrammetric and spectrometric technologies
Mr. Lauri Haataja works as a project manager at Finnish Forest Centre in project Digitization of forest legislation enforcement. Master's Degree in Forestry and almost 10 years working experience with quality control methods of silviculture first in Natural Resources Institute Finland and later in Finnish Forest Centre. Wide aim of ongoing project is to develop and pilot new solutions for collecting, producing and sharing forest data in support of Finnish forest legislation enforcement. Main current task and interest is to find out what forest parameters can be measured by agile drone-based methods.
Dr. Anne Hirsikko is a head of group for Weather radars and atmospheric profile measurements in Finnish Meteorological Institute (FMI). Her ambition is to utilize new innovative measurement techniques to fulfil gaps in atmospheric profiling both in operational observation service and research. She leads UAV team in FMI. The team includes climate and air quality scientists making drone-borne atmospheric observations and meteorologists developing tailored weather services for UAV.
Mr. Jarno Salonen is working as a Senior Scientist in the Cybersecurity team at VTT Technical Research Centre of Finland Ltd – the largest multi-technological research organisation in Northern-Europe. He has a professional background of over 17 years in making the digital world a better place for ordinary users especially in the areas of cybersecurity, privacy and development of electronic services. His recent activities include among others the definition of cybersecurity competences for the Finnish Government; "Cyber security competencies in Finland – Current state and roadmap for the future" (2015-2016). In 2017 he coordinated two projects for the Prime Minister's Office in Finland; "Opportunities and benefits of blockchain technology in social and health care" and "Competence-based security of supply to guarantee the technological and industrial basis of Finland's defence". Currently he is the Finnish country coordinator for ITEA3 project "17032 CyberFactory#1" lead by Airbus CyberSecurity and addressing opportunities and threats for the Factory of the Future (FoF). He is the representative of VTT in one of the working groups in ECSO – European Cyber Security Organisation, a member of the Finnish Information Security Cluster (FISC) management team and his work has been published in several scientific journals and conferences.
Mr Seppo Huurinainen is the establisher and CEO of Wuudis Solutions Oy, a forerunning company in forest digitalisation. Wuudis Solutions harnesses the power of big data through integrating Wuudis with multiple forest big data sources in standardized way and implements intelligent algorithms to make forest management and monitoring simple, systematic, autonomous and cost-effective.Mr. Huurinainen holds a Licentiate Degree in Forestry as well as a Licentiate Degree in Ecological Botany. His international career has included long-term project tasks in Indonesia and Mozambique.
Cyber Security Nordic 2019
We would be more than happy if you would continue your stay in Helsinki and participate in Cyber Security Nordic on 2 to 3 October. It is the most significant event of Cyber Security solutions in Northern Europe and takes place forthwith the Drone Congress. https://cybersecuritynordic.messukeskus.com/