Map Unavailable
Date/Time
Date(s) - 02/06/2023 - 04/06/2023
All Day
Categories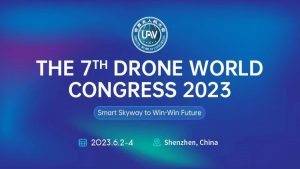 Date: June 2-4, 2023
Country: China
Venue: Shenzhen Convention & Exhibition Center
Website: www.droneworldcongress.com
As a global communication platform for the development of the drone industry, the Drone World Congress has been successfully held in Shenzhen for six sessions so far. Through various activities such as "thematic congress, new product showcase and international competitions", the congress highlights internationalization, specialization and marketization, aiming to become a world-class professional drone congress, thus helping to transform and upgrade the industry and strengthen national economic development.
More than 4,000 industry experts, scholars and entrepreneurs from more than 100 countries and regions attend the online and offline meetings of each congress, and more than 200 renowned scholars and experts in their respective fields, as well as leading experts and entrepreneurs in unmanned systems, discuss the cutting-edge technology of drones, urban air traffic, low-altitude skyway construction and other topics in the form of keynote speeches or video sharing, etc.
During the congress, the organizing committee will also launch the Global Drone Contribution Award, Drone World Congress Small Giant Award and the Unmanned System Design Award for brilliant drone insiders and professionals. Currently, the 7th Drone World Congress, with the theme of Smart Skyway to Win-Win Future, will be held at Shenzhen Convention and Exhibition Centre from June 2-4 2023.